Biography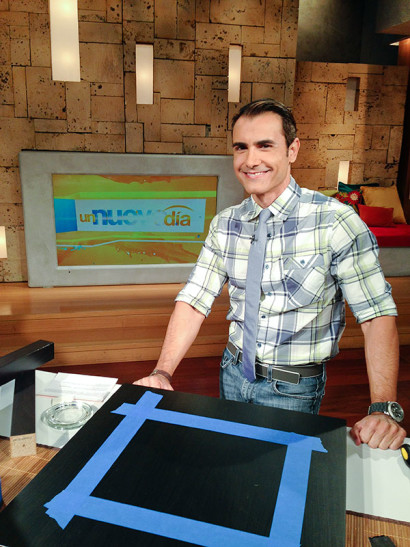 MARTIN AMADO is a TV personality, interior decorator, lifestyle expert, and contributing writer on the subject of home décor. He can be seen as host/designer on So Flo Home Project airing Saturdays at 11 am on WPLG Local 10, an ABC affiliate in Miami, FL.  Prior to that, South Florida viewers became familiar with his work on the home makeover segment Room for Improvement that aired on WSVN 7 News, FOX affiliate, for over 11 years.  In addition to his work in the general market, Martin has been featured on numerous Spanish-language media platforms airing nationally in the United States and throughout Latin America.
He is currently host of branded content on the ION@Home segments seen on ION Television and is a home décor contributor to Un Nuevo Día, Telemundo's national morning program. Prior to that, he was the lead designer on Decorando Contigo airing for five seasons on Galavisión and collaborated across multiple platforms on Univisión with his own segment called Manos A La Obra airing on the entertainment program, Escándalo TV on TeleFutura (now rebranded as UniMás) followed by Despierta América with the segment called Antes y Después.  His work was also featured on top-rated programs including Nuestra Belleza Latina (2010) where he decorated the mansion where the beauty contestants lived during the reality competition; the talk show Cristina (2009) where he surprised a viewer in North Carolina with a home makeover; and he was responsible for the set décor of the cooking/lifestyle program Delicioso (2010) during its first season.

His decorating segments have been featured internationally on FOXLife (Utilísima) on programs such as Tu Vida Más Simple and Hogar Express.
His experience also includes being an On-Air Guest Expert for the HGTV Home brand on the Home Shopping Network and as a host/designer for HGTV (Home & Garden Network) on shows such as Small Space, Big Style and Decorating Cents.
Because of his television platforms and media reach, Martin is also a sought-after spokesperson for satellite media tours, branded TV segments and other marketing initiatives. He was chosen by Moen, the #1 faucet brand in the United States, to be their
Home Décor & DIY Expert for three consecutive years on their SaturDIY: Moen Makeover webisode series for the general market. He can also be seen on HuffPostVoces.com as their DIY expert on the Baño Chic and Hogar Chic webisode series.
Martin has shared his decorating and lifestyle tips in the pages of People En Español, Vista Magazine, Latina Magazine, TV y Novelas, and Qué Rica Vida. With over 500 makeovers under his belt, his next venture as a writer is to publish a decorating book in Spanish and English.  He wants to inspire readers to become their own DIY designers, and with his advice, help them give their home the decorator look for less, too! Book proposal is currently being pitched to publishers through his literary agent.
"I've come to believe that each of us has a personal calling that's as unique as a fingerprint – and that the best way to succeed is to discover what you love and then find a way to offer it to others in the form of service, working hard, and also allowing the energy of the universe to lead you."

~ Oprah
Martin works exclusively with clients through his home styling company, The WOW Factor!, Inc., where he specializes in one-day makeovers and working with a minimal budget to achieve the decorator look for less! He draws on his keen eye for design, experience as a visual merchandiser, and savvy shopping skills to help homeowners realize that a beautifully-decorated space can be within their reach.
Please visit the press page for additional highlights throughout his career inside the pages of People En Español and other important publications.
You may follow him on Twitter: @martinamadotv, join his Facebook fan page: Martin Amado: Home Décor & Lifestyle Expert, subscribe to his YouTube channel: Martin Amado and follow him on Instagram: @martinamadotv for more decorating tips and ideas.